On 9 March, I attended a workshop for legal apprentices, hosted by CILEx Law School as part of National Apprenticeship Week.
The workshop was an opportunity for CLS apprentices to network, but also to understand how innovation in the legal sector is likely to change their working practices in the future. Attendees also had the opportunity to comment on how the introduction of technologies in the workplace is changing their day-to-day activities as they progress through their apprenticeship.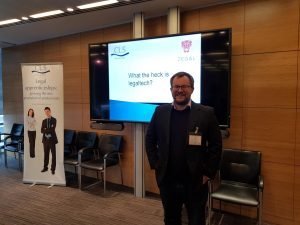 Led by Chris Sykes, Head of New Business at Zegal, the presentation discussed the development and implementation of technology in the legal sector, which has the potential to impact on the daily work of junior staff in law firms – technology such as document review, automated contract writing services, and even a chatbot that can automatically launch an appeal against a parking fine, but also, in the future, the use of artificial intelligence.
There was discussion about future expectations in relation to communications both internally within the firm and with clients, who are seeking to deal with their lawyers using similar tools to the ones they use socially.
It's clear that working practices and skills for future lawyers will change, Chris was keen to point out that lawyers will still be required in this brave new world and in a number of ways – checking the work of any automated service used by clients, communicating with clients and making certain that the technology is working correctly in terms of its understanding and interpretation of facts to the law to give sound advice. In addition to lawyers, new jobs will emerge in the sector to support these innovations, so career choices may be wider in the future.
The future use of technology in the legal sector also means we must consider how ethical dilemmas need to be incorporated into these developments. Chris gave an example from the world of driverless cars – what option does technology choose when faced only with the option to either hit a pedestrian or an oncoming car and how does it make that choice? It's a fundamental issue for lawyers and one that we can't ignore as technology is developed and incorporated into the legal sector.
Even though this may all seem like some way off, feedback from some participants demonstrated that the world of work will change (and is already changing) for trainee lawyers. At the moment, it's freeing up time to concentrate on other areas of activity, but in the future these other activities have the potential to be automated, too, so we need to think about how we train our lawyers of the future, both to ensure they are as effective as they can be through understanding the possibilities that technology and other innovations offer, and to ensure they have the space to develop when many routine tasks have been automated.
At CILEx Regulation, we are currently looking at these issues and others as part of our review of education and training requirements for future CILEx lawyers. As the review develops, we will publish more articles and seek the views of a range of stakeholders, so watch this space!