Our consultation about the information that we plan to require firms to publish will close at 5pm on 21 December.
All the information will need to be published on a firm's website so that it is available in the public domain. We plan to roll out our requirements in Conveyancing and Wills initially.
These are the main strands of our planned requirements.
Price information
Firms will be asked to make it clear to consumers what the expected total cost of a legal service will be, and the basis on which they will be charged. The price information must be clear and presented in a way that is easy for consumers to understand.
Additional information
Price information alone presents only a partial view of what a firm offers. Consumers need information about what else firms provide so they can compare offers from different providers and choose the deal which best meets their requirements.
Firms can distinguish themselves and attract business by providing information about the elements of service which are valued by consumers.
In addition to price, we will require firms to publish information about service, redress when things go wrong and regulatory status, as a minimum.
Service
We will expect our firms to publish a short explanation of the services they provide, with key stages of each transaction and likely timescales for each stage.
Redress
We will expect our firms to publish details of their complaints handling procedure, how to complain to the Legal Ombudsman with timescales, and appropriate information about Alternative Dispute Resolution.
Firms will be required to publish that they have professional indemnity insurance covering all services provided and inform which of their services are covered by our compensation arrangements. We plan a visual aid for consumers in a format similar to the matrix below.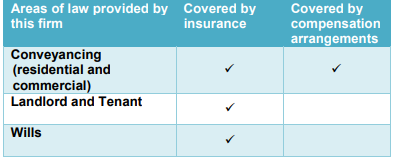 Regulatory status
Firms are currently required to state on their websites that they are regulated by us and we offer use of a logo.
Logos can be copied and used dishonestly, and websites can appear genuine when they are not. To improve this situation for the consumer, we plan to require our firms to use a special logo called a "Smart Badge". This has background technology, so it can't be copied.
Have your say
You can read our full consultation here. Your views are vital to informing the development of our requirements. You can provide your views here.